Went to this show for Hunter MFA grads. It's in a horrible location: 450 W. 41st, near Lincoln Tunnel. The galleries were insanely hot. Although the show had not officially opened, a student preparing the gallery kindly let me take a peek.
Here are some images:
In person, this sculpture is much more impressive. Those are stacks of sliced-up newspapers frozen in a swirling motion.
Anat Litwin, "She-Altar"
This was another sculpture similar to the newspaper one. Loads of tangled wires that were quite mesmerizing.
Melissa Cowper-Smith, "Rachel"
Ahh, finally some paintings. This image reminds me of the work by Mel Leipzig. (To view some of Mel's work, visit
Gallery Henoch website
and click on "artists.") Detailed, realistic renderings of living spaces--but this artist does it from this hole-in-the-ceiling view.
Andy Cross, "History of the World Ancient and Modern"
More paintings. This artist's thesis project, as you can tell from the title, is quite ambitious. Not my favorite, but I bet he'll do some interesting stuff in the future.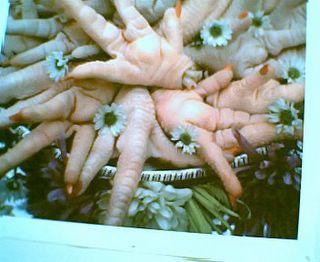 Tokoha Matsuda.
Don't know the title. Let's call it "Chicken Feet." Another interesting image was fish heads w/the same type of flower. I like this artist's images. Playful.
Labels: Art exhibits